Windows section and La Sal Mountains. Photo by Tom Dell
This week we're headed to one of the gems in the national park system – Arches National Park in southeastern Utah. Just about everyone who visits Arches loves the place. Pick your favorite adjective – dazzling, gorgeous, awesome, fascinating, colorful, magnificent, epic – they all apply.
Here, in a desert covered mostly by scrub and slickrock, is the world's largest concentration of natural stone arches – over 2,000 in all. These were formed in a geologic formation known as Entrada Sandstone, which has a granular texture and a dark red color that glows brilliantly at sunrise and sunset. Many of the Arches occur in groupings you can view along the park's 18-mile scenic drive and a couple of short spurs. Short hiking trails get you up close and personal with these formations.
To make the most out of a visit to Arches, you'll want to make some preparations. Fortunately, Arches has one of the best, most useful national park web sites you'll find. I encourage you to spend some time checking out www.nps.gov/arch. In addition to the usual stuff, it has sample itineraries, details on the features most people want to see, half a dozen multimedia presentations, useful tips for avoiding traffic congestion, and links for reserving campsites. You can even pay your entry fee in advance to speed your way into the park.
In several places, I'll provide pathways to web content rather than write all the details in the post. That should help you focus your time on what interests you most.
A geologic fantasy
The terrain within the park's 119 square miles is a combination of rolling desert interspersed with soaring monoliths and spires. This landscape was made possible by salt. It was inundated several times by the ocean. Evaporation left behind a 3,000-foot thick layer of salt, which was buried under sediments that became sandstone. A combination of folding, faulting and jointing created free-standing fins. Over millions of years, erosion wore holes in these formations — a process that's still going on.
For a great look at how the arches were created, watch the 3 ½-minute animated multimedia presentation on the web site; from the landing page, follow this path: Learn About the Park >> Photos & Multimedia >> Multimedia Presentations >> Geology.
We're going to take a brief ride down the 18-mile park road. I'll point out the features most visitors want to see and provide pathways to more details. By the way, Arches is a great park for bicycling, although the road is narrow, and riders should ride single file.
The entrance gate is 5 miles from Moab on US 191. There, you'll pay the entrance fee, which is $25 for private vehicles, $15 for motorcycles and $10 for bicyclists and hikers. Just beyond the gate is the visitor center, which is currently open 9-4:30 daily. Hours will expand in March, when the busy season begins.
A different world
From the gate, the road makes a hairpin turn, climbs a steep grade, then turns left and enters a different world. Red sandstone fins and cliffs soar above the road on the left, and the 11,000-foot La Sal Mountains appear on the right. About 7-8 miles from the visitor center, you see the Windows section off to the right. That's the view shown in our featured photo above. Just beyond that point is the aptly named Balanced Rock and the turnoff for the Windows section.
This is a "must-see" stop. If your time is very short, at least walk the one-mile Windows Trail, the short trail to Double Arch and the one around Balanced Rock. For details, follow this path from the park's landing page: Plan Your Visit >> Places to Go. Also, go to the Hiking page, which has links to details on these short walks. Go to Plan Your Visit >> Things to Do >> Hiking. There, you'll find a link to each trail. Tip: Arrive early, because parking can get tight here.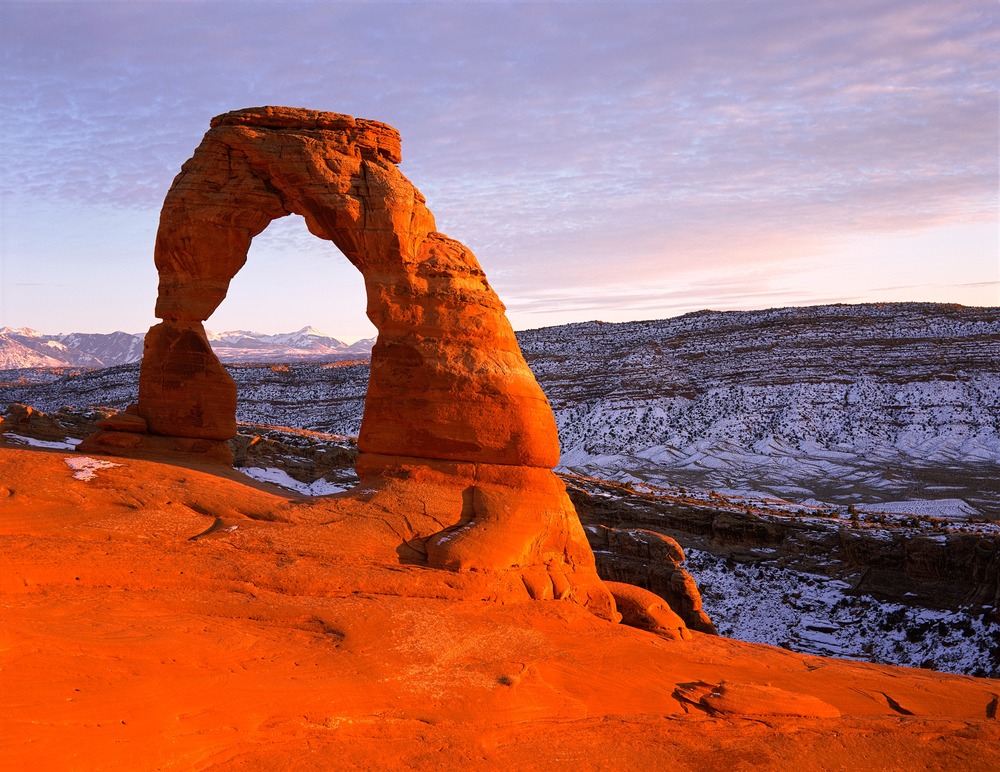 License plate arch
Back on the main road, you reach the Delicate Arch turnoff after 2.4 miles. Delicate Arch is the park's symbol and even appears on some Utah license plates. The short side road leads to the Delicate Arch trailhead and a viewpoint where you can see Delicate Arch in the distance. The Delicate Arch hike is 1 ½ mile each way and is classified as strenuous. Use the Hiking link from the previous paragraph to learn more.
Three miles farther is the turnoff for Fiery Furnace – a maze of sandstone fins where it's fun to explore and easy to get lost. A permit and fee are required to enter. If you're interested, follow the Hiking pathway, then click the Fiery Furnace link and the Ranger-guided link. You should also watch the two Fiery Furnace multimedia presentation at Learn About the Park >> Photos & Multimedia >> Multimedia Presentations >> Fiery Furnace Tour Video. I recommend you go on the ranger-led tour, which requires advance reservations and costs $16 for adults and $8 for kids 5-12. The Fiery Furnace page described above has a link for the ranger-guided tour.
The road ends at the Devils Garden trailhead, which leads to another concentration of Arches. It includes 291-foot Landscape Arch – the world's longest. You can find more information via the Places to Go and Hiking links provided above.
Lovin' it to death
That's the dazzle. Now for the frazzle.
Arches gets crowded – so crowded, in fact, that it has a negative impact on the visitor experience. Arches is one of those national parks that's being loved to death. Visitors are finding the same issues in the park they were hoping to escape.
Annual visitation is about 1.6 million. It ranks only 55th among national parks in visitation, but the number is a bit deceiving. At Arches, visitors are funneled through a single entrance onto one paved scenic drive with a few short spurs. There are a handful of stops just about everyone wants to make, and parking, despite recent expansion, is very limited. The same goes for trails: The 3-4 "must-walk" trails are often crowded. Budgets for staffing and maintenance aren't keeping pace with the growth in visitation, which has mushroomed in recent years.
Recognizing the problem, the National Park Service is studying ways to alleviate overcrowding in Arches. It's likely we'll see a reservation system implemented next year. If you'd like to view the park's Traffic Congestion Management Plan, follow this link from the park's home page: Get Involved >> Planning >> Transportation.
Tips for a quality visit
It's possible to have a great visit to Arches, but you'll need to make crowd avoidance part of your plan. Here are my recommendations:
Avoid summer, when high desert temperatures mix with occasional violent thunderstorms and the greatest number of visitors. Parking spaces are hard to find, and trails are crowded. Room and campground reservations are hard to get, and rates are at their highest.
Visit Arches late September-mid-November and mid-March-late April for fewer visitors and a good chance of nice weather. Ranger programs are offered March through October.
My preference is mid- to late October. There's an exception: The park gets busy during the Utah Education Association break in October. The 2018 dates haven't been posted yet.
Don't discount winter. It gets cold here, but the area doesn't get a lot of snow, and hiking may be possible.
Avoid Easter week and all holiday weekends. That incudes the week between Christmas and January 1.
Enter the park before 8 a.m. or after 3 p.m. If you want to make half-day visits to Arches and Canyonlands National Park's Island in the Sky district, go to Arches first. Canyonlands is typically much less crowded.
For more information, follow this path from the park's landing page: Plan Your Visit >> Directions & Transportation >> Traffic tips.
Arches National Park is just 5 miles from downtown Moab, where you'll find a wide selection of services.
About 30 miles north via US 191 is Interstate 70. Driving distances from major cities are 285 from Salt Lake City, 340 from Denver, 450 from Las Vegas, 465 from Phoenix and 730 from Los Angeles. Salt Lake is the nearest major airport, although a few flights land in Grand Junction, Colorado.
That's it for this week. See you February 26.